YOUR ENTRY MUST BE APPROVED BEFORE IT IS SHOWN HERE.
~ Enter - Sign My Book ~ :
There Are 239 Messages
Back 1 4 5 6 7 8 9 10 11 12 13 14 15 16 17 18 19 20 21 22 23 24 Next
Messages 131 to 140

Jus Kuntree |
|
Extending to you, a warm welcome to the Garden Of Friendship! I'm looking forward to seeing you in the Garden!


March 25 2007 - Kansas
Tootypup....Susan |
|
Hi there
Just came by to welcome you to our wonderful garden... l know you will love it here. Looking forward to getting to know you....l am also the ACL of the Pet lovers committee... one of the wounderful groups here in the garden.... may be we will see you there....well tke care and have a wonderful day there.
Love and Hugs
Tootypup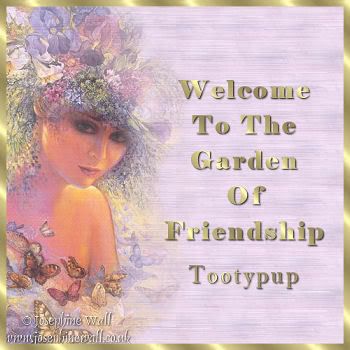 March 25 2007 - Australia
Country |
|
Welcome to the Garden of Friendship.
I hope you enjoy your stay here as much as I have over the past Five years.
Huggles, Country
GOF Welcoming Committee

March 25 2007 - Eastern Shore of Virginia, USA
Cindy (Sealed One) |
|
Welcome Vintage!
I hope you will find many friends here in the Garden of Friendship.If you have any questions we are here to help you get around. You have a wonderful site and I will be looking forward to seeing you around the garden!



March 25 2007 - Meeker Colorado USA
Gennifer |
|

Welcome To Garden Of Friendship!!!

On behalf of myself and GOF,
I would like to welcome you to our group.
We are very pleased that you have decided to join us.
I hope you will enjoy your stay with us.
If you ever have any questions,
Please feel free to ask.

HUGS
Gennifer

March 25 2007 - Texas
Ann
On behalf of the Graphics Committee I offer you a very warm welcome to the Garden of Friendship.

March 25 2007
Ann
Welcome to the Garden of Friendship, I hope that you will have a lovely time here.

Hugs
Ann

March 25 2007 - England
Sandy L |
|
A big welcome to the Garden of Friendship.So glad you joined us.We all have a great time here in the Garden.
Hugs
Sandy L

March 24 2007 - Oregon
Christina aka Stina |
|

I just want to take a moment
of your precious time today
To shower you with welcomes
before I'm on my way....
We're so glad you have joined us
I hope we soon shall meet
Within this pleasant Garden
of Friendships we shall keep!

© Christina

Hello Vintage,
I just want to take this moment to welcome you to the Garden of Friendship!

My name is Christina and as well as being on the Welcoming Committee, I am the ACL of the Blossoms Committee, where we help to sprinkle lovely blossoms on each and every member in the Garden. We'd love to have you, so if you are interested, please feel free to take a look at our Committee pages!

Once again, a big warm welcome to you.

Cheers
Christina
Blossoms ACL & Welcoming Committee


March 24 2007 - Sydney, Australia
Ladywain |
|


I'm so happy that you have joined us here. You will be a very wonderful asset to the Garden, I know!

Huggles from Ladywain

March 24 2007 - Texas USA

Back 1 4 5 6 7 8 9 10 11 12 13 14 15 16 17 18 19 20 21 22 23 24 Next

Moments In Time Poetry

Mattia Family Website